Two more mare foals born <3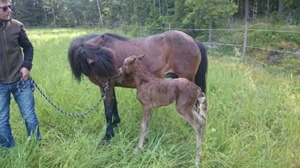 We have been very lucky so far in our breeding here at SundsbergKval this year - and have now received three healthy, beautiful and longlegged mare foals after three top (!) stallions! First came our Katla and Viktor-daughter (see previous news post). Now, Brana has given birth to a red dun filly after Álfur frá Selfossi, and our best mare Álaborg frá Feti also had a girl this year, after Ísar frá Keldudal.

Brana's daughter, born on the 17th of June 2015, has been named Blóma från SundsbergKval and looks and moves very well! With a talented five-gaited mother and the great tölt- and competition horse, Álfur, as her father, she should have much promise in the future!

Árdís från SundsbergKval was born on the 21th of June 2015 and is stunning! She is red with a lovely white blaze (probably after her grandmother), and has quite the parents and genes :D Her mother is our best breeding mare (and Orri-daughter), Álaborg frá Feti, who received 8.25 and came third at Landsmót 2004 only four years old. Father, Ísar frá Keldudal, was last year's champion at SM and has scored a total of 8.85 for ridden abilities (and he has proven to be a strong breeder already)! So we hope for a true gædingur and talent in little Árdis!