Sundsberg is this year's breeding farm in Sweden 2014!!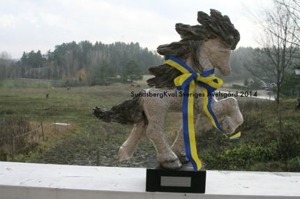 Sundsberg and Birgitta and Rune Ibert were awarded this year's breeding farm in Sweden 2014, and their champion of stallions, Ísar frá Keldudal became this year's gædingur (at the SIF's awards yesterday)!!!

Also Mozart från Sundsberg became this year's highest judged stallion of 7 years and older (total breeding score of 8.72). Mozart is the son of Vor and Ísar (bred at Sundsberg), and is the father of our stallion prospect, Gulliver från SundsbergKval!

Many congratulations to our breeding partners Rune and Birgitta Ibert, who not only found and created the star Ísar frá Keldudal, but also have bred so many unique horses - and made a definitive mark in Swedish and world-wide breeding of Icelandic horses! We are honored to be working together with them through SundsbergKval breeding! Hurrah for Birgitta and Rune!