Álaborg gave birth to a healthy black boy: Arthur från SundsbergKval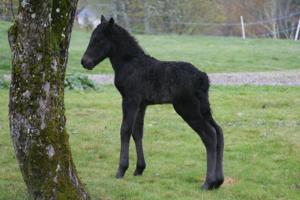 Finally Álaborg's little son decided it was time to come out and see the world (weeks over his due date;). He was born early this morning, black, healthy and handsome, without any complications. His mother is one of our top breeding mares, Álaborg frá Feti (came third at Landsmót at the age of four years, tot. 8.25), and his father is the extraordinary talent, Spuni frá Vesturkoti (tot. 8.92, BLUP 133).

Many thanks to Birgitta Ibert and Rune, who take such great care of the horses, and made sure that everything went okay!

The little stallion has now been named Arthur från SundsbergKval, and has a BLUP of 126!

Check out recent pictures in the album below!