Latest update on our very pregnant ladies and happy youngsters!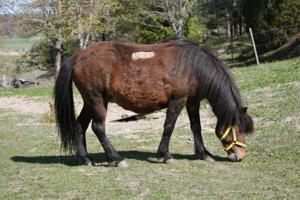 Our pregnant breeding mares, Álaborg and Ísadóra, have both passed their due date, and we all are waiting expectantly (especially Birgitta and Rune who watch over them with great care!). With big and round bellies, the foaling should happen any day now! Álaborg is expecting a little Spuni son or daughter and Ísadóra is pregnant by Alfur. Birgitta has sent us some great pictures of the ladies - check them out below.

There are also some pictures of our young and hopeful stallion prospects, Vignir and Bjarki, who are developing nicely! Vignir is after Vaka and Ísar frá Keldudal, and Bjarki's father is no one less then Spuni frá Vesturkoti.