Visit to Lian Horsefarm at Tynset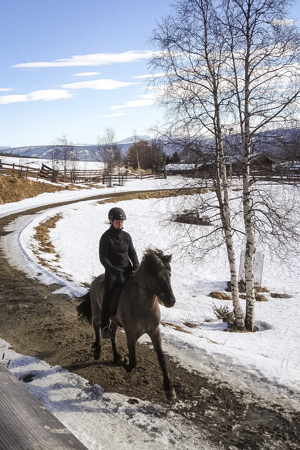 We (Per and good friend Ivar Lindstad) went to Lian islandshester (icelandic horse farm) close to Tynset, to take a closer look at our two young stallion prospects after Ísar frá Keldudal under our 1. prized Orri-daugther, Katla frá Holtsmúla 1. The farm has a wonderful location with great mountain view, and we received a warm welcome by Stein Sorknes and his daugther Ingeborg, as always. Ingeborg has started Keilir's training for us, and is doing great with him. She is Holar-educated with work-experience from Blesastaðir and Artemisa Bertus, and we are happy to be working with such a talented rider/trainer.

The oldest stallion prospect, Keilir från Kval (soon four years old) is named after his grandfather (Keilir frá Miðsitju), and has a wonderful character. He has changed a lot since the last time I saw him, and grown into a really handsome young stallion: well-proportioned, with a long, slim and well-set neck, soft upper back line, straight legs and good hooves (Orri-genes). He actually looks a lot like his father, Ísar, at a young age, with soft, effortless movements and lots of positive willingness. He is still young and immature, but his tölt comes naturally and has lots of leg action. He is to likely acquire even more of speed in his gaits and pace as well with time and training. We thus decided to keep him in light training to keep his spirit and positive attitude, and gradually build more strength to enable him to carry his big movements. He will follow the stallion heard up in the mountains this summer which will be good for him, and continue his education next fall/winter. We hope he has a bright future as a competition horse and stallion!

Keilir's younger, full-brother, Kraflar fra Kval (soon three years) , also looks very promising. It is difficult to assess his conformation at this age, but he looks handsome, and showed nice movements in the fields with the same soft, wide movements and positive spirit as his brother. He will be started next fall by Ingeborg, and if all goes well both stallion prospects will be brought to Vignir Jónasson and Malin at Backome in late 2014 or early 2015, for further training and breeding evalution. We have high hopes for both of them, and are tempted to use this combination again in breeding. Combining Ofeigur and Orri genes still seems to work particularely well!

Many thanks to Ingeborg and Stein for a great visit!