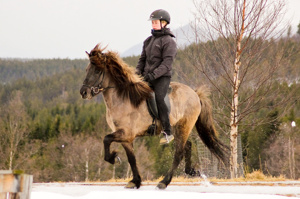 Our two self-bred (soon to be) four-year-olds are looking great in training! Keilir från Kval (Ísar-son) is being trained by Ingeborg at Lian Horsefarm in Norway, and is developing nicely. He has roomy movements with lots of leg action already, and shows a natural and wonderful tölt! We look forward to visiting Lian this spring, and if his talent is still up-and-coming, it is very tempting to have him shown at a breeding competition (time will tell...).

Alfa frá Hamarsey is proving just as talented. She is now being trained by Vignir Jónasson at Backome Horse farm in Sweden, and he will also compete with her at a breeding show when she is ready. Alfa is showing good tölt with nice leg action, and much softness and lightness of foot in all of her gaits. We have high hopes for this breeding combination (Orri-daughter Álaborg frá Feti and Hróður frá Refsstöðum), and Alfa has already proven herself to be a lovely mare.

Check out the pictures below. Both Keilir and Alfa have only been ridden for a some months - what amazing natural talents they must be!