Amazing Accomplishments in 2013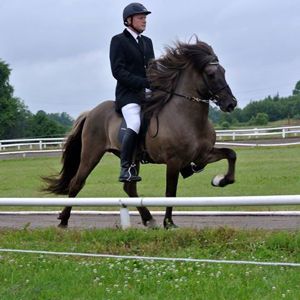 Our breeding partners at Sundsberg (Birgitta and Rune Ibert) are the proud owners of the outstanding stallion Ísar frá Keldudal. 2013 has been an amazing year for Ísar both in the competition ring and as a breeder. With his rider Vignir Jónasson he received a third place in the pace competition, second in five-gait and became the Swedish Champion in five-gait combination. He also became this years gædingur at Gædingur SM. Ísar had 6 offsprings that competed in the Swedish Championship (SM) this year, of which two got qualified to the World Championship (WC), and received a first and third place in WC Berlin (Djörfung and Mozart)!

Ísar has now increased his BLUP to 127, and his wonderful daughters Vísa (our breeding mare) and Vigdis have a BLUP of 127 and 131 respectively! Ísar has covered 15 mares this summer, and they are all pregnant. What a stallion and stock-improver! We wish to send many congratulations to our breeding partners Birgitta and Rune Ibert who found Ísar, and together with great trainers (Vignir Jónasson, Malin ++) enabled Ísar to become the unique talent he is today!