Vísa gave birth to a beautiful little mare!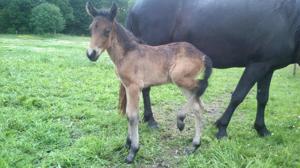 Our breeding mare Vísa från Sundsberg had her foal today - a little girl :D
She has already been named Vilja fra Kval!

Her father is the amazing young stallion Mökkvi från Åleby, who received 8.82 for riding abilities with 9.5 for pace and spirit! Mother Vísa is one of our top breeding mares, having not only a beautiful confirmation, head and neck but also scoring 8.5 for tölt and willingness as a four-year old (1.pr., tot. 8.15)!

It seems that little Vilja has inherited her mother's well-set, long neck and lovely conformation, and having two such talented parents it will be exciting to follow her development!