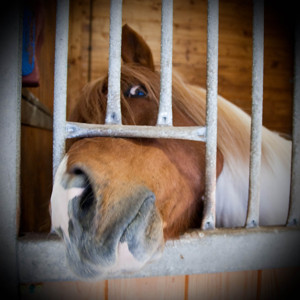 Saturday the 25 of May we (Camilla, Per, and Ísadóra in the horse trailer) drove to Hamar, so that Ísadóra can be inpregnated with the famous stallion Álfur frá Selfossi. The flood that had made the roads closed only days earlier, was luckily under control. We had a nice drive up to Hamar, and arrived at "Spang-berg Hingstestasjon" in sunshine! Ísadóra quickly found her place in the herd of mares, and seemed content. Vakning, one of our previous breeding-mares (now owned by Alf Bjørseth) was also in the flock, so it was great fun seeing her and Ísadóra meet. Vakning still had some winter fur left, so we brought her back to the stable for a quick grooming and a photo-shoot (see more pictures on Vaknings page). She is looking beautiful!

On the field next to Álfur's-mares, was Fasta with her newborn son! Fasta is also previously owned by Kval (new owner Alf Bjørseth), and her handsome foal is after Álfur! Fasta and the foal were shy at first, but allowed us to come quite close (for some great pictures) after a while. The Álfur-son looked great: a well-set neck, good proportions, a lovely head and showed all five gaits with big movements :D

Right when we were about to leave, I walked passed an open stable door - and there he was; Álfur frá Selfossi! He was even more beautiful in real life, and very friendly and good-natured (important traits in a stallion). I almost felt a bit star-struck meeting one of the greatest Icelandic stallions alive.